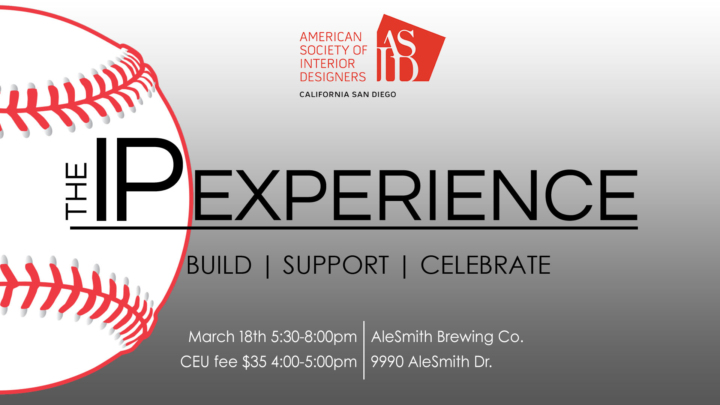 MAR 18 IP EXPO MEETS MARKET AleSmith Brewing Co. CEU 4:00-5:00P, Exhibit 5:30-8:30P
Description
Come enjoy the 2020 IP EXPO!
With a starting lineup to include your favorite IP veterans and many exciting Industry Partner rookies, the evening promises to deliver exciting match-ups for Designers and Students alike.
Take the field on March 18th from 5:30-8:30 pm at Alesmith Brewing, where they'll be serving up America's Finest craft brews along with their curated sodas. Prefer grapes over hops?- that's okay- we thought of that too and will also have wine on tap. And come hungry- food trucks will be stationed in the outfield to serve up some delicious treats to leave everyone satisfied.
Need CEU credits?? There are 35 spots available on the roster for a CEU to take place in the dugout from 4:00-5:00. Sign up early- space is very limited.
Forget the pennant race! You'll score a first look at IP's exciting new products, scout new connections with vendors that will make your next project shine, and even have the chance to take home prizes including tickets to see the Padres in action!
WHEN: Wednesday, March 18th
4:00-5pm Interior Design CEU
5:30-8pm IP Experience
WHERE: Alesmith Brewing Company
IP EXPO COST: This 21+ event is FREE for ASID designers, emerging professionals, and students.
CEU COST: $35 to take the CEU for 0.1 credit.
So don't wait! Grab your tickets NOW to join us at the 2020 IP Experience. It promises to be a home run!
CEU provided by: Steelcase- 'Neuroscience, the Next Competitive Advantage'
"In workplaces throughout the world, scenarios of near-constant distraction have become the norm. We text during conversations, email during meetings, skimp on lunch breaks to catch up on work – always trying to process faster, handle more and work harder, often without realizing just how much we're degrading our mental capabilities in the process. Thankfully, our ability to focus is still salvageable. As a result of the vast amount of neuroscience research being done, there's now hard evidence about what attention is, how it works, how to attain it and how to use it productively. By delving into the findings, Steelcase researchers have gained new insights into how our brains should shape thoughts, emotions and behaviors, and then applied this new science to create concepts for how thoughtfully designed workplaces can help workers better manage their attention. By leveraging the full capacity of our brains and our environments, it's possible to think better at work.