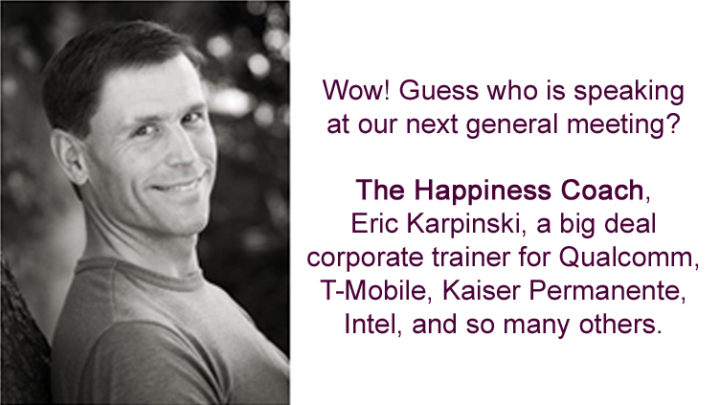 Chapter Meeting: The Science of Happiness
Description
"Happiness Delivered"
Join us for a night with Eric Karpinski, The Happiness Coach.
Eric Karpinski is a well known keynote speaker and corporate trainer. In his Science of Happiness at Work program, he shares powerful positive psychology research showing that happiness leads to success. He teaches executives, managers and employees how to become happier and tap into higher productivity, more engagement and stronger relationships at work and at home. Eric's clients include Qualcomm, T-Mobile, Kaiser Permanente, Intel, TIAA, Eli Lilly, Genentech and many others.
The meeting host, Patio Productions, has invited us to play in their fun patio furniture showroom with an evening of wine, cheese and reflection on all the things for which we are thankful. The world's largest outdoor umbrella manufacturer, Treasure Garden, is hosting our amazing speaker. They are known for their brands ShadeMaker and Jardinico Umbrellas, and will have live demonstrations. Happiness is finding a comfortable place to relax in the shade!
And finally, if you still need a reason to attend, representatives of San Diego based Harmonia Living brand furniture will be on site offering additional discounts direct to local San Diego designers for the entire 2019 season.
Patio Productions is in an industrial building that does not have HVAC, and they like to open the doors for their parties, so please dress warmly. Also to maximize your happiness they recommend carpooling or using a ride-share service as parking is limited. However, the wine and beer are both unlimited.
Our chapter meeting begins at 5:30 pm, and is preceded by an IP meeting at 4:30 pm.