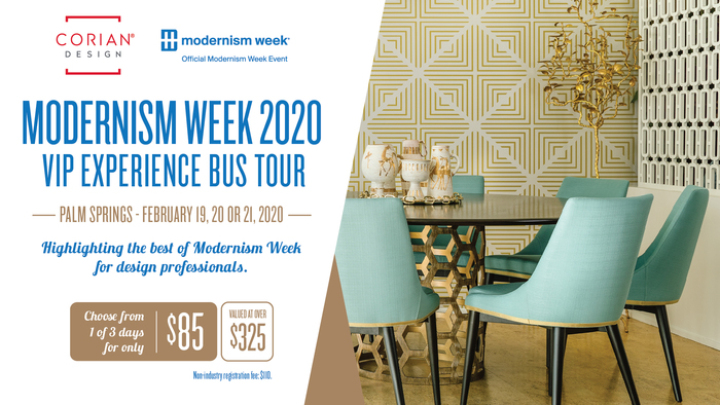 FEB 19 Modernism Week 2020 VIP Bus Tour
Description
You and your peers will visit the showcase homes of Modernism Week, including an architectural restoration, mid-century renovation, a designer show house, and a new desert modern construction. A cocktail reception and hors d'oeuvres at CAMP featuring a live performance by the dreamboats will close out the day.
Tour stops and VIP activities include a light breakfast, lunch, cocktails and snacks throughout the day. Guests will have private tours of the Palm Springs Visitors Center, as well as the Guggenheim House, Divine Du Bois, and Mesa Modern Featured Homes and the Gillman Residence Showcase Home.
This CEU-accredited private bus tour highlights the best of Modernism Week for design professionals, with visits to the Palm Springs-based Showcase and Featured Homes of Modernism Week and a concluding cocktail reception at CAMP.
Choose one of three days for only $85.00.