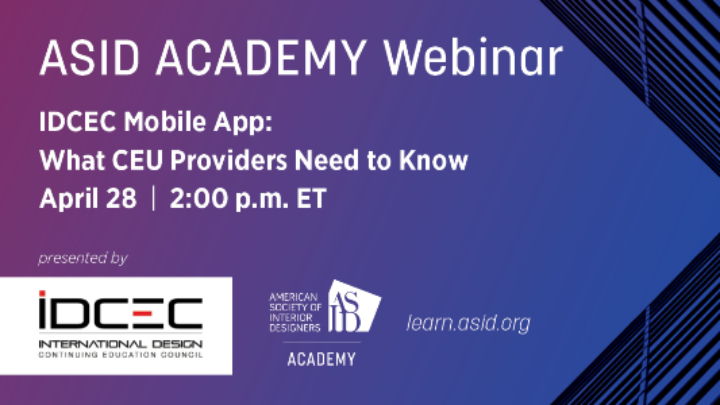 Webinar on "IDCEC Mobile App: What CEU Providers Need to Know"
Description
Get a breakdown of the new IDCEC Mobile App and learn why, when, and how to use it as a CEU provider! The webinar is open to ASID Industry Partners and Chapter Leaders. Click here to register.
In January 2021, the International Design Continuing Education Council (IDCEC) released a mobile app for learners to report their attendance at live events. What does that mean for registered CEU providers? Learn about your responsibilities for attendance reporting and the new requirements when using the app from Brynell D'Mello, Hon. FASID, CHRL, Chief Executive Officer of IDCEC.
Get all your questions answered in an interactive program featuring video, brief presentation, Q&A and virtual discussion.
What You Will Learn:
Describe how the IDCEC Mobile App will help you as a CEU provider.
Recognize when it is most appropriate to incorporate the app in your CEU process.
Identify alternative solutions for learners unable to use the app.
Access Period: One year from registration
Speaker
Brynell D'Mello, Hon. FASID, CHRL
CEO, International Design Continuing Education Council (IDCEC)
Brynell D'Mello is an experienced leader currently serving as Chief Executive Officer at the International Design Continuing Education Council Inc. (IDCEC). She is responsible for execution of policy and operations for the company. Brynell also implements the strategic plan and supports the Board in corporate governance for IDCEC. Brynell was hired to centralize and automate operations for IDCEC in 2011, and played a pivotal role to bring together North America's designers, manufacturers, and design associations. IDCEC currently provides registry services to over 40,000 designers and has approximately 950 education provider members within the design industry.

Brynell holds a Bachelor of Education degree specializing in adult education, a Bachelor of Commerce degree and is a Canadian Human Resources Professional (CHRL). Her professional development education centers on building leadership, leading change, and strategic agility.